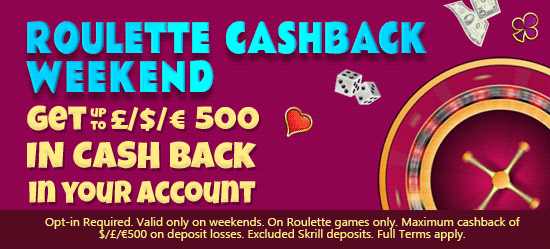 ROULETTE CASHBACK<br/>WEEKEND
Play Roulette All Weekend & You Could Get up to 15% Cashback
Roulette Cashback Weekend Promotion
Every weekend at Casimpo you could receive up to 15% of your deposit back in CASH just in case Lady Luck wasn't by your side.
Every weekend at Casimpo is ROULETTE CASHBACK WEEKEND, where you can get up to 15% of your deposit back in real money.
How Roulette Cashback Weekend Works:
Make a deposit of £/$/€10 or more with code: MARKER
Play any roulette games you like, including Live Roulette tables
If you aren't showered with wins, you will get back 10% of your deposit if you wagered up to £/$/€499, and 15% if you wagered more than £/$/€500, up to a maximum of £/$/€500.
That's it!
Three easy steps to put REAL MONEY back in your pocket, plus your Cashback has no wagering requirements, so it's yours to do as you please!
Terms & Conditions:
The promotional period runs every weekend from Saturday 00:01 GMT until Sunday 23:59 GMT.
Players must make a minimum deposit of £/$/€10 using code: MARKER to opt in to the cashback promotion during the promotion period.
Only Roulette Tables, including Live Roulette tables will be eligible for the cashback promotion.
Players need to be eligible to receive bonuses.
Players will receive 10% - 15% Cashback on deposit losses during the promotional period as follows:

Players wagering up to £/$/€499 will receive 10% cashback on their deposit losses.
Players wagering £/$/€500 or more will receive 15% cashback on their deposit losses.

All bonus payments awarded will be rounded down to the nearest 2 units (2 decimals).
The minimum payment amount you will be able to receive will be £/$/€5
The maximum payment amount that you will be able to receive will be £/$/€500.
Players must deposit and complete real money wagers in order to qualify for this promotion.
Players will be notified of the exact "bonus/cashback" offer/amount they received via personalized notifications.
The cashback payments will be awarded by the following Monday to the player's Real Money Balance from where it can be withdrawn as cash or used for non-Promotion play.
General Terms & Conditions:
The promotion is subject to the Casimpo's Terms and Conditions.
Casimpo reserves the right to alter this chapter, cancel, modify or suspend any offer and any promotion at any time and without prior notice – in respect of any Bonus that has yet to be provided to You. Any bonuses granted prior to the change shall not be affected. The terms and conditions and the bonus policy that apply to any Bonus received by You are the Terms and Conditions and its Bonus Policy that are in force at the time in which You sign up to the Promotion to which that Bonus relates. Nothing in this section limits any other right and/or remedy granted to Us.
These terms and conditions may be published in a number of languages for information purposes. In case of deviations, the English version applies.
Casimpo's Terms & Conditions:

I. General

The Site is operated by ProgressPlay Ltd (the "Company"), with registered address at Level 3 (suite no. 1258), Tower Business Centre, Tower Street, Swatar, Birkirkara, Malta. The Company operates online games in accordance with Malta Gaming Authority, Licence Number MGA/B2C/231/2012

issued on 16th April, 2013

and is licensed and regulated by the Gambling Commission, License Number 000-039335-R-319313-012.
These terms and conditions ("Terms and Conditions") govern your ("You", "Your" or "Player") use of the online and mobile gaming services provided to You by the Company. These Terms and Conditions should be read carefully by You in their entirety prior to Your use of the Services. Please note that these Terms and Conditions constitute a legally binding agreement between You and the Company.
These Terms and Conditions incorporate Our privacy policy and the Betting Rules by agreeing to these Terms and Conditions You confirm that You also accept and agree to Our privacy policy and the Betting Rules (You can review Our privacy policy by clicking here and review Our Betting Rules by clicking here.)

II. Definitions

In these Terms and Conditions, the following words and phrases shall (unless the context otherwise requires) have the meanings set out beside them:

"£/$/€/kr" - shall mean the currency with which You registered Your Account.
"Account" shall mean a personal account opened by an individual, solely for such individual to enable such individual to play the Games at the Site.
"Bet" shall mean a bet placed by You on an Event.
"Games" shall mean any of the games made available on the Site including Events.
"Event" shall mean any event upon which a Bet is available on the Site.
"Illegal Actions" shall mean illegal, unlawful, fraudulent, or other improper activities (including, but not limited to, (i) collusion between Players, (ii) the use of devices and software such as robots, (iii) sale, transfer and/or acquiring Accounts from other Players, (iv) transfer of funds amongst Players' Accounts),(v) match fixing or otherwise influencing an Event and/or the outcome of any Bet contrary to applicable legislation and/or the rules of the relevant matches, as well as breaking into the Site or attempting to do the same.
"Restricted Territories" shall mean the following countries: Australia, Belgium, Belize, British Virgin Islands, Bulgaria, Croatia, Cyprus, Denmark, France, Greece, Hungary, Israel, Italy, Lithuania, Luxembourg, Portugal, Romania, Serbia, Slovenia, Spain, Turkey and the United States of America and additional jurisdictions blocked by the Company at its sole discretion. This list may be amended by the Company, at its sole discretion, from time to time.
"Services" shall mean the Company's Games and any other services and activities offered at the Site.
"Complaint" shall mean an expression of dissatisfaction in relation to the Services provided as stated in XIV below.
"Dispute" shall mean a Complaint that has not been resolved by the Company as set out in these Terms and Conditions within the initial 8 week period stated in XIV below.
"Site" shall mean any website and/or mobile site and/or mobile application owned, operated or hosted by the Company.
"We", "Our" or "Us" shall mean the Company, and/or any subsidiaries, affiliates, employees, directors, officers, agents, suppliers, consultants and contractors.

III. Subordination to the Terms and Conditions and the Binding Effect Thereof

By using the Site, registering at the Site, or by participating in one of the Services, You agree to be bound by and to act in accordance with the Terms and Conditions, as they may be updated from time to time, without any reservation.
The Company reserves its right to amend these Terms and Conditions at any time, in its absolute and exclusive discretion. You will be notified of any changes to the Terms and Conditions prior to the changes coming into effect. Any Bet made prior to the entry into force of the revised Terms and Conditions shall be governed by the Terms and Conditions in force when placing the Bet. If You do not wish to be bound by such amendment You must stop using the Site and Services. Should You wish to stop using the Site and Services following any change to the Terms and Conditions, You may withdraw all available funds and close Your Account in accordance with these Terms and Conditions.
These Terms and Conditions supersede all prior agreements between the parties in relation to its subject matter and constitute the entire and whole agreement between You and the Company. You confirm that, in agreeing to accept these Terms and Conditions, You have not relied on any representation except for any express representation made by the Company in these Terms and Conditions.

IV. Who is Entitled to Participate

You may only use the Services if You comply with all of the following:

You are at least eighteen (18) years old or of legal age as determined by the laws of the country where You live (whichever is higher); in this respect, the Company wishes to draw Your attention to the fact that underage gambling is an offence;
You are the owner of a valid payment method (or authorized to use a valid payment method by the owner of that valid payment method); and
You do not violate any law or regulation as a result of using the Services. In this context, You agree that if You reside or are present in any jurisdiction that prohibits using the Services offered at the Site (including without limitation any of the Restricted Territories) You shall not participate in the prohibited activity.
You are not a player or otherwise have any connection or can have any influence over an Event and/or any outcome of a Bet.

The Services are intended only for Players who are not prohibited by the laws of any applicable jurisdiction from gambling on the Internet and/or mobile devices. The Company does not intend to enable You to contravene applicable law. You represent, warrant and agree to ensure that Your use of the Site and/or the Services will comply with all applicable laws, statutes and regulations. The offering or availability of the Services shall not be deemed or interpreted as an offer or invitation by Us to use the Services, if You reside in a place in which such use is currently forbidden by law (including without limitation the Restricted Territories), or where the Company, in its sole discretion, elects not to offer Services. You shall be solely responsible for determining whether Your use of the Site and/or Services is legal in the place where You live and/or use the Site and/or Services. We make no representations or warranties, expressed or implied, concerning the legality of the Services and/or of the Site and/or of any person's participation in the Services through this Site, and shall not be responsible for any illegal use of the Site by You. It is Your responsibility to ensure that You comply with any and all laws applicable to You before registering or participating in any of the Services through this Site. You should consult with legal counsel in the applicable jurisdiction about the legality of Your use of the Site and/or the Services.
Until We have satisfactorily completed age verification, You will not be permitted to withdraw any winnings from Your Account. In addition, if You deposited money using any type of payment method other than a credit card, and age verification has not been satisfactorily completed in respect of You within 72 hours of You attempting to register and open an Account and deposit money with the site, then (i) Your Account may be frozen, and (ii) no further gambling will be permitted via Your Account until age verification has been successfully completed. In addition, the Company reserves the right at any time to request from You evidence of age and if satisfactory proof of age is not provided within 72 hours of Our requesting such proof, then the above-mentioned consequences will apply, mutatis mutandis. In the event that it is found that You are under the age of 18, or the legal age as determined by the laws of the country where You live (whichever is higher), then the Company shall close Your Account and return to You all funds deposited, but the bonuses, winnings and bonus winnings shall not be paid and will be voided.
Employees, directors and officers of the Company, as well as members of their families, affiliates or subsidiaries, and all other persons connected, directly or indirectly, to the computer systems or the security system employed by the Company, as well as any person involved in the operation of this Site and the establishment thereof, including, but not limited to advertising, promotion and fulfillment agencies, insurers and legal advisers, webmasters and web suppliers and family members thereof, are not entitled to participate in any of the Services. For the sake of good order it is clarified that any person who is not entitled to participate as aforesaid - as well as any other person who substitutes such excluded person - is also not entitled to any of the prizes afforded or referred to by the Site, and the Company reserves the right to suspend the Account (including freezing all funds deposited within) and void all bonuses, winnings and bonus winnings in the Account.

V. Account Registration

Anyone interested in participating in the Services is obliged to register and open an Account at the Site.
The Company shall review the details, information and documentation provided by You as a part Our "know your customer" process. The Company will carry additional "know your customer" process upon any special circumstances including, but not limited to, high fraud score, suspicious details provided, a high number of deposits, various IPs used to access the Account, abnormal game play activity and Your jurisdiction.
You shall be fully and solely responsible to reserve in confidentiality Your Identification Details and not to transfer them to another. The full responsibility for an unauthorized use of Your Identification Details lies solely with You, and You alone will bear all responsibility derived from any unauthorized use of Your Identification Details. If You misplace, forget or lose Your Identification Details because of anything other than the Company's error, the Company shall not be liable for any direct or indirect loss associated with such occurrence.
You are only allowed to have one Account at this Site. If You open more than one Account, the Company may block or close any or all of Your Accounts at its sole and absolute discretion; in which case the Company may void the bonuses, winnings and bonuses winnings in the Accounts as well as return all funds deposited in the Accounts.
The Company may at its own discretion and without having to provide justification, refuse to open an Account or close an existing Account. However, all contractual obligations already made will be honoured.
You hereby represent that the registration of Your Account is done personally by You and not by any third party.
By opening an Account, You hereby represent, warrant, acknowledge and undertake that (a) the details You submit during the registration process are true and correct, and that You will update them, immediately upon any change thereto, (b) Your Account is for Your personal use only and shall not be used by any third party, (c) any funds You deposit in the Account may and will be used by You solely for playing the Games and/or using the Services, (d) the Company is not a financial institution and any funds in Your Account shall not accrue any linkage differentials and/or interest, (e) You are of sound mind and You are capable of taking responsibility for Your own actions, (f) it is Your responsibility to read and understand the Games rules and procedures and that You fully understand these rules and procedures, (g) You understand that the use of the Games carries with it a risk of losing funds wagered in the Games, (h) You will cooperate with the Company and provide it with all requested documentation in a full, complete and truthful manner, (i) You have verified and determined that Your use of the Services does not violate any laws or regulations of any jurisdiction that applies to You, (j) You are solely responsible for recording, paying and accounting to any relevant governmental, taxation or other authority for any tax or other levy that may be payable due to Your use of the Site (including, but not limited to, payment of winnings), (k) You will use the Services in good faith towards the Company and others using the Services, (l) You will be solely responsible for all Your losses resulting from placing bets at the Site and playing the Games, (m) the Company may at its sole discretion, decide whether to open, maintain and/or close Your Account (provided that existing contractual obligations are honoured), as well as suspend Your Account (including freezing all funds deposited within) and void all bonuses, winnings and bonus winnings in Your Account - where You have broken any provision of these Terms and Conditions, (n) You shall be solely responsible for maintaining the confidentiality of Your Account details (including Your user name and password required for entering Your Account), and for any and all actions and transactions taken in connection with Your Account by anyone who enters Your Account while using Your details, and all such actions and transactions shall be deemed as actions and transactions taken by You, (o) You will immediately inform the Company of any suspected unauthorized use of Your Account, (p) You shall not make any charge backs and/or deny or reverse any payment made by You in connection with the Services, and You shall reimburse Us for any loss or damage We incur as a result of any such action, and in any event You will promptly pay any and all of Your debts to Us, and (q) You shall indemnify Us and hold Us harmless, from and against all direct and indirect claims, liabilities, damages, losses, costs and expenses, including legal fees, arising out of or in connection with any breach of these Terms and Conditions by You, and any other liabilities arising out of Your use of the Site or any unauthorized use of the Site by any third party.
You further represent, warrant, acknowledge and undertake that (a) You will not use Your Account, and will not allow any third party to use Your Account, for any Illegal Actions, (b) in case You will perform any Illegal Action the Company shall be entitled to disclose any and all of Your details and information to the relevant authorities, and to suspend Your Account (including freezing all funds deposited within) and void all bonuses, winnings and bonus winnings in Your Account, (c) all money that You deposit into Your Account is not tainted with any illegality and, in particular, does not originate from any illegal activity or source; (d) You shall be solely responsible for all losses, liabilities and damages incurred as a result of any Illegal Action performed by You and You shall indemnify Us for any such losses, damages and liabilities, (e) You have not had an Account in the past which was terminated or suspended by the Company, (f) the means of payment (e.g. credit card) information You provided the Company in connection with Your Account are of means of payment owned by You and in Your name (or that the owner of the means of payment provided You with all required consent to use that means of payment for placing a wager via the Site, and You are acting within the confines of that consent) and was not stolen or reported as lost, (g) We are not obligated in any form or manner to validate the consent granted to You by the owner of the means of payment which You use, and (h) You are not and You have not notified the Company that You are addicted to gambling.
If your Account is regulated by the Gambling Commission (Customers in the UK), your account must be verified before you are allowed to deposit funds or gamble (with your own funds or bonus funds) or before you can access any free-to-play games. You may be asked to show one or more of the following documents (or additional documents not listed below) to Us to verify your name, address and date of birth:

Proof of ID: A valid photographic identifying document is required in order to process Your first deposit. The ID can be a copy of a valid passport, driver's license or national ID card. Your name, photograph and signature must appear on the copy sent to Us. In some cases, You may be asked to have Your documents signed and stamped by a qualified notary or solicitor as proof of legitimacy.
Proof of address: This can come in the form of a recent utility bill or credit card statement that shows Your full name and address as listed in Your Account.

VI. Account Operation

It is unlawful to deposit any money in Your Account from ill-gotten means, and You will not make such deposits. Without derogating from the above, You hereby acknowledge that the Company will check all transactions to prevent money laundering, and will report any suspicious transactions to the relevant authorities.
The following deposit methods are available to deposit money with the Company: Credit Cards, Wire Transfer, Neteller, PayviaPhone, Paysafecard, Trustly, iDeal, Skrill, Sofort, GiroPay, Euteller, WebMoney, Qiwi, Zimpler, Ecopayz and Fast BankTransfer. Availability of each payment method depends on Your registration country and chosen currency. Your Account will be credited with the deposit only after the deposit is confirmed by the Company and the relevant payment method; until such confirmation is received, Your Account will not include such deposit in the Account's balance. The Company does not provide credit, nor does it participate in, arrange, permit or knowingly facilitate the giving of credit. Deposits made via PayviaPhone has a 15% processing fee which will be deducted from your deposit amount.
Your attention is drawn to the fact that the Company imposes certain deposit limits, at its discretion and subject to various reviews and verifications performed by the Company. These could vary over time and in accordance with various characteristics relating to each customer and deposit; by way of example, PayviaPhone deposits are from GBP 10 to GBP 30 per phone number, Paysafecard – from £/$/€ 10 or 100kr to £/$/€ 700 or 7,000kr per deposit per Site.
The Company is required by its licence issued by the Gambling Commission to inform You about what happens to funds which the Company holds on account for You, and the extent to which funds are protected in the event of insolvency . The Company shall hold your funds in a separate bank account so as to be kept segregated from the Company's own accounts, in accordance with the Company's regulatory obligations. These funds are not protected in the event of insolvency. This meets the Gambling Commission's requirements for the segregation of customer funds at the level: basic segregation. For additional information, You can click here - Protection of customer funds.
It is Your responsibility to notify the Company immediately of a lost or stolen payment method, or of any change in the payment method; any losses and damages caused due to Your failure to provide such immediate notification will be solely borne by You, and We will not be liable for any such losses and damages.
You are not allowed to transfer funds from Your Account to other Players or to receive money from other Players in Your Account, or to sell, transfer and/or acquire Accounts from other Players.
If Your Account is regulated by the Malta Gaming Authority, it will be deemed an Inactive Account if You have not logged into Your Account for a period of 12 (twelve) months. Any Inactive Account will be charged with an administrative fee equivalent to 5 (five) Euros per month, provided the Company has notified You 30 (thirty) days prior to Your Account becoming Inactive, that such fees will be incurred; the maximum amount of fees thus incurred will be the balance of Your Account . If You have not logged into Your Account for a period of 30 (thirty) months, Your Account will be deemed a Dormant Account, in which case the Company shall remit the balance of Your Account (after deduction of the charges referred to in this section) to You, or to if You cannot be satisfactorily located - to the Malta Gaming Authority.
The arrangement outlined in section 7 will not apply to an Account which is regulated by the Gambling Commission.
In any case in which Your Account becomes a Dormant Account or an Inactive Account according to section 7 (which is not applicable if Your Account is regulated by the Gambling Commission), is blocked from further use or closed, and without derogating from the Company's right to seize and forfeiture any and all funds held in Your Account, You may contact the Company at customersupport@instantgamesupport.com and submit a request to reopen Your Account and/or return the balance of Your Account. For the avoidance of doubt, the Company is under no obligation to accept Your request, and such request will be reviewed in accordance with the relevant facts and circumstances and the provisions of these Terms and Conditions.
You may ask at any time to close Your Account by sending an email to the Company's customer support at customersupport@instantgamesupport.com, and You will be contacted by customer support accordingly in order to facilitate such request.
The Company's default user history presentation provides only part of the game history; if You wish to receive all of Your game history, please contact the Company's customer support at customersupport@instantgamesupport.com,
Once a Bet is placed, it cannot be changed or cancelled.
A Bet placed after the Event commences (save for in play betting) and/or a Bet placed after the result of the Bet is known, are invalid and do not entitle You to receive any winnings from such a Bet; the sum of the Bet shall be returned to You in such a case.
The Company may offer a cash-out feature in some Bets on some Events, at its sole and absolute discretion. This feature, if offered, will allow You to cash-out part or all of Your Bet prior to the end of the Event upon which You placed the Bet. The return provided to You according to the cash-out feature will change during the Event and will be determined by the Company at its sole and absolute discretion. We are under no obligation to provide the cash-out feature in any Event and/or Bet and can cancel this feature altogether without being required to provide any notice about it.
The result of the Bet is confirmed by the Company in accordance with official results published by the applicable governing bodies arranging the Events and/or according to alternative sources of information; in an event of a conflict between the official results and other sources of information, the Company shall determine the result of the Bet. If the Company is unable to determine the result of the Bet, the Bet will be void and the wager will be returned to You.
Subject to section 15, the Company will publish the result of the Bet on the Site, and the Account shall be credited with winnings (if any) within 72 hours of the Company publishing the result of the Bet. In an event of conflict between the results published on the Site and the results registered with the Company's systems (or with systems operated on the Company's behalf by third parties), the latter shall prevail.

VII. Withdrawals

You may withdraw Your real money balance (Your deposit and any winnings generated from the deposit) at any time - without restriction, except where necessary to comply with any general regulatory obligations.
Before any withdrawal you have to make at least one successful deposit.
When You request a withdrawal, the funds requested are transferred to the payment method(s) You initially used to deposit.
In case where Your payment method is not available for withdrawal due to third party's policy's restrictions, the withdrawal will be made to another payment method available to You.
If You have outstanding deposits, the Company reserves the right to postpone or halt withdrawal payments until all deposits are received and confirmed.
Should Your bank or payment method charge a processing fee in connection with the withdrawal, the payment of this fee is Your responsibility.
In a case where We cease to offer Our Services in a specific jurisdiction, a reasonable processing fee (beyond that stated in section 7) may be charged to You upon withdrawal.
It is Your responsibility to notify Us immediately of a lost or stolen credit/debit card or change of details to an e-wallet; any losses and damages stemming from a failure on Your part to provide immediately such a notification will be borne solely by You, and We will not be liable for any such losses and damages.
Withdrawals are subject to a processing fee in the amount of £/$/€2.5 or 25kr per withdrawal.
If Your Account is regulated by the Malta Gaming Authority, the maximum withdrawal amount per Account is (i) £/$/€ 3,000 or 30,000kr per week, and (ii) £/$/€ 6,000 or 60,000kr per month. In case of progressive jackpots, the winnings can be withdrawn at once in full amount, except in case of Divine Fortune jackpot win where the maximum withdrawal amount per month is £/$/€ 30,000 or 300,000kr. We may, at Our sole discretion, increase these limits to Our valued Players.
Limitations:

Visa credit and debit card withdrawals are not available in certain countries due to local issuer restrictions.
MasterCard and debit card withdrawals are not available due to issuer restrictions.
Skrill, Webmoney and Qiwi may only be used as a withdrawal option in case a successful payment was done previously.
Some methods are only available in certain countries and with certain currencies.
For further information please contact Our customer support via LiveChat or e-mail at: customersupport@instantgamesupport.com

If your Account is regulated by the Gambling Commission (Customers in the UK), your payment method used for deposit must be verified before any withdrawal can be processed. You may be asked to show one or more of the following documents (or additional documents not listed below) to Us:

If deposited or withdrawing via Credit/Debit Card please provide back and front of the card that you have used with us. We need to see the first and last four digits of your card, your name and expiry date, you can cover the 8 middle digits and CVV code for security reasons.
If deposited or withdrawing via an E-Wallet please provide a screenshot or photo of the e-wallets profile page showing your name and email.
If deposit via PayViaPhone please provide a photo of your phone bill showing the mobile number that you have used with us and your full name.
If deposited via any other method please provide a photo or screenshot of the method showing your name

If your Account is regulated by the Maltese Gaming Authority, we may sometimes require identity verification before processing a withdrawal. You may be asked to show one or more of the following documents (or additional documents not listed below) to Us:

Credit/debit card used to fund Your Account: A clear, legible copy of both sides of the card is required. For security reasons, the middle eight numbers on the front of the card and the three-digit code on the back of the card's copy must be crossed out.
Proof of address: This can come in the form of a recent utility bill or credit card statement that shows Your full name and address as listed in Your Account.
Proof of ID: A valid photographic identifying document is required in order to process Your first withdrawal. The ID can be a copy of a valid passport, driver's license or national ID card. Your name, photograph and signature must appear on the copy sent to Us. In some cases, You may be asked to have Your documents signed and stamped by a qualified notary or solicitor as proof of legitimacy.

The additional documentation requirement will be mandatory where Your cumulative withdrawals amount to £/$/€1500 or 15,000kr.
Should concerns arise regarding your documentation in connection with Anti-Money Laundering or similar issues, then the Company may request notarized documents and suspend Your Account (including freezing all funds deposited within) until further notification.
In order to make a withdrawal, click on the "Cashier" icon, followed by the "Withdrawal" option. The select Your preferred withdrawal method, fill out the relevant form as per the withdrawal method chosen, click "Withdraw" and the withdrawal process will begin.
Please be advised that all cash out requests will appear as "Pending" for 3 business days (for Swedish Players - 24 hours), during which time You can cancel the request. In order to cancel Your withdrawal request, go to the "Cancel Withdrawal" tab and click "Cancel" next to Your withdrawal amount.
After 3 business days (for Swedish Players - 24 hours), the status of Your withdrawal request will change to "Processing" and You will no longer be able to cancel it. You will receive an email notification once Your request has been delivered and the funds have been transferred to You.
For assistance with withdrawals or any other matter, feel free to Contact Us
The methods with which You can use to withdraw funds from Your Account are: Credit and Debit Cards, Neteller, Paysafecard, Skrill, Trustly, Ecopayz, Euteller, Qiwi, Webmoney and Bank Transfer.

VIII. Responsible Gaming & Self-exclusion

Always remember that the Services are for Your personal entertainment; they are not meant to make You rich overnight and there are no winnings formulas. Make sure to budget Your money and know the game rules. We urge You to review information available at https://www.gamblersanonymous.org.uk/, http://www.gamcare.org.uk/ or similar websites so as to ensure You are gambling responsibly. Furthermore, We suggest that You employ measures aimed towards gambling responsibly, such as timers or other forms of reminders and/or duration, wagers and loss restrictions while gambling. We offer measures relating to deposit limits, wager limits, loss limits and session limits; any reduction in the limits will take effect immediately and any increase in the limits will take seven days (or 24 hours if Your Account is regulated by the Gambling Commission) before coming into effect. In addition, We offer self-exclusion and cooling off options (as further detailed in sections 2-8). We also wish to draw Your attention to the existence of software preventing an individual computer from accessing online gambling websites, such as www.cyberpatrol.com or www.gamblock.com/
You may exclude Yourself from the use of the Services for any definite or indefinite time (or, if Your Account is regulated by the Gambling Commission - for a minimum period of between six months to 12 months (extendable by You for one or more periods of at least six months each)) via the responsible gaming section in the client interface or by contacting our customer support via (customersupport@instantgamesupport.com), in accordance with Your decision to be provided to the Company. Prior to confirming Your self-exclusion request, You will be provided with information regarding the consequences of self-exclusion. Should You decide to be self-excluded, We encourage You to consider extending Your self-exclusion to other remote gambling operators currently used by You. Any undetermined bets at the time of Your self-exclusion will be settled in the normal way, according to the normal timescales and, if subsequently applicable, winnings paid to You. Any self-exclusion Account blocks cannot be undone during the agreed self-exclusion period.
Following Your request to be self-excluded: (i) Your Account will be closed and any funds held in Your Account will be returned to You (subject to the provisions of section V/8); (ii) As soon as practicable after Your request to be self-excluded is submitted to the Company, You will cease to receive any marketing materials relating to the Services; provided, however, that this will not extend to blanket marketing which is targeted as a particular geographical area and where You would not be knowingly included.
It is hereby clarified that regardless of the length of Your self-exclusion period, at the end of such self-exclusion period, such self-exclusion will end and you will be allowed to commence wagering with the Company and also receive marketing materials. If Your Account is regulated by the Gambling Commission, at the end of such self-exclusion period, such self-exclusion will remain in place unless You take a positive action in order to gamble again (subject to a minimum self-exclusion period of six months), and You will not receive any marketing materials unless You have taken a positive action in order to gamble again and agreed to accept such marketing materials. The positive action in order to gamble again must be accompanied by a one day cooling off period prior to allowing You to gamble again.
In requesting self-exclusion, You agree to provide full and accurate personal details, now and in the future, so Your access/use of the Site and Services can be restricted. If You do choose to self-exclude, We will use all reasonable endeavours to ensure We comply with Your self-exclusion. However, in agreeing to self-exclude, You accept that You have a parallel obligation not to seek to circumvent the self-exclusion. Accordingly, We have no responsibility or liability for any subsequent consequences or losses howsoever caused that You may suffer or incur if You commence or continue to gamble through additional online accounts where You have changed any of the registration details or You provide misleading, inaccurate or incomplete details or otherwise seek to circumvent the self-exclusion agreed. Any self-exclusion, time out or any similar action will be valid across all websites operated by the Company.
If You are uncertain whether to exclude Yourself from the site, ask Yourself the following:

Have You been diagnosed with an addictive disorder previously?
Do You place bets while under the influence of alcohol or other substances?
Is gambling interfering with Your daily life?
Are You trying to recover previous loses by placing more bets?
If You answered 'yes' to one or more of the questions above, it is strongly recommended that You contact the customer support team and ask to be excluded as well as seek professional help.

If Your Account is regulated by the Gambling Commission, You may request a time out from gambling, which is a cool off period of between 1 to 42 days. A request for a time out period should be submitted via the Site in the casino client under the responsible gambling section. Once the cool off period requested is over, or if You asked to end it, then, despite anything to the contrary herein, You will be allowed to continue and gamble without any restrictions.
You may set up a reality check timeframe through the responsible gaming screen. Once set, the time that has passed since You started to play the Games within the same session will appear on the screen (the "Timecount"). Once the Timecount will reach the reality check timeframe You have set, You will be prevented from continuing playing the Games during the same session until You acknowledge You wish to continue playing the Games. If You acknowledge You wish to continue playing the Games, Timecount until the next reality check will be reset, and the abovementioned process will recommence. Beginning a new session will cause the Timecount to reset as well. At any point in time, You may change and/or cancel the reality check timeframe, and such change or cancellation will enter into force immediately (and in the case of change, will reset the Timecount).

IX. Bonus Policy

Once You make an eligible deposit according to a promotion offered by the Site, You immediately receive a Deposit Bonus. The Deposit Bonus, in the form of bonus money, free bets and/or free spins, will appear in Your bonus balance.
In addition, We may offer You a Complimentary Bonus, in the form of bonus money, free bets and/or free spins. The Complimentary Bonus will appear in Your bonus balance.
Where a Site provides a Registration Bonus, then once You register with the Site, enter valid personal details and activate Your Account, You are eligible to receive the Registration Bonus; provided solely if You are a new registrant and never had an account with the Site. The Registration Bonus can be provided in the form of bonus money, free bets and/or free spins. The Registration Bonus will appear in Your bonus balance. Any player can receive only one Registration Bonus with each Site. Any Player can receive up to 5 (five) Registration Bonuses on the Progressplay network.
All the above bonuses and the winnings generated by them are the Bonus Funds. In case of free spins, the winnings generated by the free spins are considered as the initial sum of that bonus. In the case of free bets, the winnings generated by the free bets (less the sum of the free bets wagered) will be added to your real money balance, and can be withdrawn at any time. The sum of the free bets cannot be withdrawn
Your wagering is first deducted from the real money balance. When Your real money on Your balance is nil, the wagering will be done from Your bonus balance. If the wager You make is higher than the amount of real money on Your balance, then the wager will be composed from the sum of real money on Your balance and the remainder of the wager - from Your bonus balance. Any Winnings from such a wager shall be split between real money and bonus balance according to the sum of real money and bonus balance used in such a wager. If, at a later stage, Your real money on Your balance is higher than zero, any wagering you perform from that stage will once again be from the real money on Your balance.
The Bonus Funds of each bonus will be converted to real money only after wagering 50 (fifty) times or in case of free bet 1 (one) time the initial sum of that bonus. The conversion from Bonus Funds to real money is capped at a sum equal to (i) 5 (five) times the initial sum of the bonus, OR (ii) in case of free spins - $/€/£ 20 or 200kr. Any amount of the Bonus Funds in excess of the conversion limit will not be converted to real money and will be removed from Your bonus balance.
Only wagers made with Bonus Funds will contribute towards the wagering requirement in section 6 (the "Requirement"). Only wagers made after the first successful deposit will contribute to the Requirement. Wagers made with real money will not count towards the Requirement. If You have more than one active bonus, the winnings and the contribution towards the Requirement are divided between these bonuses according to the initial sum of each bonus. By way of example, if You have three active bonuses, the initial sum of the first was of EUR 2, of the second was of EUR 3, and of the third was of EUR 1, then the winnings and the Requirement will be calculated according to a 2-3-1 split.
Only 5% (five percent) of wagers placed on all versions of video poker and/or power video poker shall be counted towards the Requirement; only 10% (ten percent) of wagers placed on all versions of Blackjack, Baccarat, Roulette, poker table games and/or jackpot games shall be counted towards the Requirement.
The following games will not contribute to the Requirement: Cool Buck, Cool Buck 5 Reels, Forsaken Kingdom, Stardust, Untamed Bengal Tiger, Untamed Giant Panda, Untamed Wolf Pack, Jack Hammer 2, Robin Hood, Tomb Raider, Tomb Raider 2, Dragon Dance. Bikini Party, Big Bad Wolf.
The Requirement must be met in full within 30 (thirty) days, or in case of free bets and free spins - within 7 (seven) days, of the Bonus being credited to Your Account, otherwise the Bonus Funds will be removed from Your bonus balance in full and will not be converted into real money and/or You will not be entitled to the free bets or free spins.
You may withdraw Your real money balance (Your deposit and any winnings generated from the deposit) at any time. However, any request of withdrawal of funds from Your real money balance prior to completing the Requirement will cause the removal of the Bonus Funds from Your bonus balance in full and they will not be converted into real money; any Pending Bonuses (see section 12 below) will be removed as well.
Subject to the provisions of this section 12, only one bonus can be active at the same time. All other bonuses (save for free spins and free bets) will be considered as "Pending Bonuses", with their applicable wagering requirements commencing only once the Requirement is met in full, or if the Bonus is cancelled for any reason; in addition, if Your Bonus Funds go below 0.5 $/€/£ or 5 kr, the next Pending Bonus (if any) will become active in parallel to the current Bonus. Any Pending Bonus (save for free spins and free bets) cannot be wagered and it will not appear in the bonus balance prior to becoming active, save for where the Bonus Funds go below 0.5 $/€/£ or 5 kr. The order of Pending Bonuses (save for free spins and free bets) becoming active will be on the basis of the time granting them to You. You can activate a Pending Bonus by cancelling the active and previous Pending Bonuses.
If You wish to cancel the Bonus, the cancelation can be done under the Account tab > Bonus history tab; in which case the Bonus Winnings will be removed as well and will not be converted into real money.
You shall be solely responsible for paying any relevant taxes levied in relation to the receipt of the Bonus Funds.
The Bonus promotion may be subject to promotion-specific terms and conditions, provided to You in the applicable marketing materials, which must be read in conjunction with these terms and conditions.
In the event that the Company deems that You acted in bad faith in relation to a Bonus and/or tried to abuse a Bonus, You shall become ineligible to receive the Bonus Funds; such ineligibility may be determined and the Bonus Funds cancelled and revoked, and Your Account may be closed. Abuse includes, but is not limited to, trying to create an unfair advantage, registering multiple accounts within the Progressplay network in order to take advantage of any Bonus, and/or receiving the Bonus and/or wagering, alone or together with others, in a manner which provides for guaranteed profits irrespective of the outcome of the wagering.
If You knowingly attempt to circumvent the Company's systems by using a virtual private network connection to participate in games which You would otherwise not be eligible to participate in, You shall be deemed to have breached these terms and conditions and the Bonus Funds will be cancelled and revoked, and Your Account may be closed.
Without derogating from any other provision in these terms and conditions, before any withdrawals are processed, Your play will be reviewed for any irregular playing patterns. In the interests of fair gaming, equal, zero or low margin bets or hedge betting, shall all be considered irregular playing patterns. Additional examples of irregular playing patterns also include, but are not limited to: (i) placing single or multiple bets of a value of fifty percent or more of a Bonus on any single game, individual hand, or round, (ii) building a balance and significantly changing play patterns for example bet size, game types and bet structures etc. in order to meet the Requirement; (iii) placing large bets which result in a substantial gain followed and by a drop in bet size equal to or more than 65% of the previous average bet size until the Requirement is met; (iv) reserving real money funds in any incomplete game round in order to use Bonus Funds before real money gameplay is completed; (v) making large wagers and then substantially reducing the wagers to meet the Requirement; and/or (vi) moving from a low weighted game to a high weighted game after a large win for the purpose of meeting the Requirement. Should the Company deem that irregular game play and/or betting techniques circumventing the standard house edge (including, but not limited to, martingale betting strategies, card counting as well as low risk betting in roulette such as betting on red/black in equal amounts) occurred, it reserves the right to cancel and revoke the Bonus Funds, and Your Account may be closed.
Any non-insignificant breach of this chapter shall entitle the Company to cancel and revoke the Bonus Funds, and Your Account may be closed.
The Company reserves the right to alter this chapter, cancel, modify or suspend any offer and any promotion at any time and without prior notice – in respect of any Bonus that has yet to be provided to You. Any bonuses granted prior to the change shall not be affected. The terms and conditions and the bonus policy that apply to any Bonus received by You are the Terms and Conditions and its Bonus Policy that are in force at the time in which You sign up to the Promotion to which that Bonus relates. Nothing in this section limits any other right and/or remedy granted to Us.

X. Powers and Authorities of the Company

The Company shall make commercially reasonable efforts to prevent any malfunctioning in the Site's activity and any errors in respect of Events and/or Bets, including, but not limited to, any errors in the odds, names of participants in the Events, handicaps and/or any other component of the Bet. However, in any event of a technical failure (or any other error) in the Site's systems for any reason whatsoever, the Company will be entitled to cancel Your participation in any of the Games, concerning which the malfunctioning has occurred. In such an event, Our responsibility and liability will be limited only to the participation fee and/or Bet sum that was paid by You for participating in such Game, and Your Account will be credited with such participation fee and/or Bet accordingly.
The Company reserves the right to cancel, terminate, modify or suspend the Services if for any reason, the Services cannot be conducted as planned, including, but not limited to, infection by computer virus, bugs, tampering or unauthorized intervention, fraud, technical failures or any other causes beyond the control of the Company. If any errors result in awarding winnings to You or in an increase in winnings owed or paid to You, You shall not be entitled to these winnings. You shall immediately inform the Company of the error and shall repay any winnings credited to Your Account in error to the Company (as directed by the Company) or the Company may, at its discretion, deduct an amount equal to those winnings from Your Account or set off such amount against any money owed to You by the Company.
The Company reserves the right to cancel, terminate, modify or suspend its Services to You in its sole discretion, given that the Company will provide You with a clear notice in writing of its decision; provided that this will not impact any rights already granted to You.
The Company reserves the right to limit, refuse or cancel any bet, stake or other wager made by You or through Your Account, as well as cancel any Game (regardless of whether such cancellation was due to actions on Your part or of any third party), where the Company believes that any act of fraud or any other act of bad faith has been taken against the Company or any third party; including, but not limited to, if the Company reasonably suspects that the integrity of the Event has been questioned, whether by You, by any person associated with You and/or by any third party (such suspect may arise on the basis of the size, volume, number and/or pattern of Bets placed by You and/or other persons with the Company and/or with third parties as well as any investigation initiated by the applicable authorities and/or Event organizer or sports body); in such circumstances You will only be entitled to receive the participation fee sum and/or Bet that was paid by You for participating in such Game, Your Account will be credited accordingly and You will not be entitled to any winnings from the applicable Game, and if any such winnings were paid to You, the Company shall reduce Your balance by the amount of such winnings (and if the Account balance is insufficient, You shall reimburse the Company with the remainder amount).
If You are disconnected from the Internet while playing the Games (not through any intentional disconnection on Your part of any other bad faith action), the Games' results and Your Account's balance will be kept as they were before such disconnection. The Company will take all reasonable measures to ensure that if You experience interruptions and/or technical difficulties with any Game, after You had made a wager, You will be allowed to resume play and restore the Game as it was before the interruption and/or technical difficulties took place. If such restoration is not possible, the Company will ensure the Game is terminated, refund the wager to Your Account, immediately inform Malta Gaming Authority or the Gambling Commission, as applicable, of the matter and refrain from re-commencing playing the Game if it is indicated that the failure which has occurred may re-occur.
The Company shall be entitled, at its sole discretion, to amend, modify, or discontinue, from time to time, any of the Services, and/or bonuses and/or promotions and/or introduce new Games, Services, bonuses, and/or promotions – provided that such act is not taken retroactively. Any bonuses granted prior to the change shall not be affected. We shall not be liable for any loss suffered by You resulting from any changes made and You shall have no claims against Us in such regard.

XI. Reservations concerning Our Responsibility

We are not responsible for any error, omission, interruption, deletion, defect, delay in operation or transmission, communications line failure, theft or destruction or unauthorized access to, or alteration of data or information and any direct or indirect loss which arises from these occurrences. We are not responsible for any problems or technical malfunction of any network or lines, Wi-Fi, Bluetooth, computers, systems, servers or providers, computer equipment, software or email on account of technical problems or traffic congestion on the internet or at any web site, mobile site or mobile application. We shall not be responsible or liable to You in the event of systems or communications errors, bugs or viruses relating to the Services and/or Your Account or which will result in damage to Your hardware and/or software and/or data.
In no event shall We be liable for any direct, indirect, incidental, special or consequential damages or damages for loss of profits, revenue, data or use incurred by You or any third party, whether in an action for contract or tort, arising from the access to, or use of, the Site, the Services and/or otherwise.
We make no representations about the suitability, reliability, availability, timeliness and accuracy of the information, software, products and Services contained and/or offered at the Site for any purpose. All information, software, products and Services are provided "as is" without warranty of any kind. We hereby disclaim all warranties with respect to information, software, products and Services contained or offered at the Site, whether express or implied.
We shall have no liability with respect to any damage or loss that was caused due to reliance, of any type, on the information or any other publication or content appearing at the Site, and You are invited to verify the information published at the Site.
We shall not be responsible or liable for any actions or omissions of internet service provider or any other third party which provides You with access to the Site or Services.
You accept and agree that random number generator will determine the randomly generated events required in connection with the Services and where the result as received by You conflicts with the result shown on the Company's server (or servers operated on the Company's behalf by third parties), the result shown on the Company's server (or on servers operated on the Company's behalf by third parties) shall in all circumstances take precedence. You understand and agree that the Company's records (or records maintained on its behalf) shall be the final authority in determining the terms of Your use of the Services.
You will use the Site and Services at Your own risk, and We shall not be responsible for any damage or loss You shall incur as a result of modifications, enhancement, termination, suspension or discontinuation of the Site or any of the Services. We will not be responsible for any damage or loss You shall incur as a result of Your use or reliance on the content of any website, mobile site and/or mobile application to which links appear on the Site.
The site, services, site's content and the software used in connection therewith are provided "as is", and we make no warranty or representation, whether express or implied (whether by law, statute, or otherwise), including but not limited to implied warranties and conditions of merchantability, satisfactory quality, fitness for a particular purpose, completeness or accuracy, non-infringement of third parties' rights or of applicable laws and regulation in respect of the Site, Services, Site's content and the software used in connection therewith, or that the Site, Services, Site's content and the software used in connection therewith will be uninterrupted, timely, secure or error-free, or that defects will be corrected, or will be free of viruses or bugs or as to results or the accuracy of any information through the site or services.

XII. Intellectual Property

All the rights, including the intellectual property rights (i.e., patents, copyright, trademarks, service marks, logos, trade names, know-how or any other intellectual property right) concerning the Site, and all of its content (including, but not limited to, programs, files, video, audio, pictures, graphics, pictures, text and software), and/or Services (collectively the "Rights"), are and shall remain the sole and exclusive property of the Company and/or any of its licensors. You may not use any of the Rights without the express prior written approval of the Company, except pursuant to these Terms and Conditions, and You shall not, by using the Services or otherwise, acquire any rights in any of the Rights. Without derogating from the above, You are strictly prohibited from: (i) copying. redistributing, publishing, reverse engineering, decompiling, disassembling, modifying, translating or making any attempt to access the source code of the Services and/or the Site, (ii) creating derivate works of the source code; (iii) selling, assigning, licensing, sublicensing, transferring, distributing the Services, and (iv) making the Services and/or the Site available to any third party.

XIII. Customer Support

You may contact the Company in connection with anything related to the Site and/or the Services at any time via Our customer support, which is available at customersupport@instantgamesupport.com
Any communication with the Company's customer support will be handled in the utmost care and without any delay by the Company's customer support representatives and will be escalated to the relevant people where necessary.
The Company will not tolerate any abusive behavior exhibited by You towards the Company's employees. In the event that the Company, at its sole and absolute discretion, deems that Your behavior, via telephone, live chat, email or otherwise, has been abusive or derogatory towards any of the Company's employees, the Company may, at its sole discretion, suspend Your Account (including freezing all funds deposited within) and void all bonuses, winnings and bonus winnings in Your Account.

XIV. Complaints and Disputes

If you have any cause to complain about anything then please contact us at complaints@instantgamesupport.com. We will deal with your complaint and all disputes will be dealt with as quickly and reasonably as possible.
For Customers in the UK, You may raise complaints for 6 months from the date of the incident of which you are making complaint.
For Customers in the UK, we will acknowledge receipt of your complaint within 24 hours and will ensure that the entire complaints process takes no longer than eight weeks from when the initial complaint is made as required by S.R code provision 6.1.1.2, at which point the Company will contact You detailing the final decision of the complaint, stating that it is the end of the complaints process along with how to escalate Your complaint to an Independent ADR entity if You wish to do so.
If we are unable to settle a complaint or dispute by any of our internal procedures, you are entitled to refer the dispute to an alternative dispute resolution (ADR) entity. The applicable ADR entity is the Independent Betting Adjudication Service (IBAS) free of charge. You may contact IBAS as follows:
Either by an online adjudication form available at http://www.ibas-uk.com on the Home page - a form can also be requested over the telephone (telephone number 0207 347 5883).
Or customers can also write to:
Independent Betting Adjudication Service
PO Box 62639
London
EC3P 3AS

XV. Miscellaneous

These Terms and Conditions and the relationship between You and Us shall be governed by, and construed and interpreted in accordance with, the laws of Malta, and You irrevocably submit to the exclusive jurisdiction of the competent courts of Malta with respect to any dispute regarding the validity, breach, interpretation, performance or otherwise arising out of or in connection with these Terms and Conditions and the relationship between You and Us. Provided, however, that nothing within these Terms and Conditions will exclude the applicability of the laws of England in respect of anything applicable to the Company's Gambling Commission licence.
The Company may, at any time, set off any positive balances in Your Account against any amount owed by You to the Company.
The Company may transfer or assign any and all of its rights and obligations hereunder to any third party; without derogating from the above, the Site and/or any of the Services may be operated by third parties. You may not transfer, assign or pledge in any manner whatsoever any of Your rights or obligations under these Terms and Conditions.
Unless explicitly stated in these Terms and Conditions, nothing in these Terms and Conditions shall: (i) be construed as creating any agency, arrangement, trust of fiduciary relationships or any similar relationship between You and Us; (ii) create or confer any rights or benefits to any third party, and/or (iii) grant You any security interest in any asset of the Company, including (but not limited to) any sum held in Your Account.
We may provide You with notices with respect to or in connection with these Terms and Conditions in an e-mail and/or through the Site, and such notice shall be deemed received by You within 24 hours from the time it is sent to You in the aforesaid manner.
No failure or delay on Our part in exercising any right, power or remedy thereunder shall operate as a waiver thereof, nor shall any single or partial exercise of any such right, power or remedy preclude any other or further exercise thereof or the exercise of any other right, power or remedy.
If any provision of these Terms and Conditions is held by a court of competent jurisdiction to be unenforceable under applicable law, then such provision shall be excluded from these Terms and Conditions and the remainder of these Terms and Conditions shall be interpreted as if such provision was so excluded and shall be enforceable in accordance with its terms; provided, however, that in such event these Terms and Conditions shall be interpreted so as to give effect, to the greatest extent consistent with and permitted by applicable law, to the meaning and intention of the excluded provision as determined by such court of competent jurisdiction.

XVI. Language Discrepancies

The Terms and Conditions have been drafted in the English language. In the event of any discrepancy between the meanings of any translated versions of these Terms and Conditions and the English language version, the meaning of the English language version shall prevail.

Version 1.2.5 - 05.06.2019

Valid until further notice
More Promotions